Applications
HeiSys. The Multi-talent.
Open module standards
Essentially, three module standards dominate the market so far, covering the majority of application requirements.
Low-power modules such as SMARC or QSeven (up to 12W) enable the possibility of implementing simple applications. While the performance of QSeven is a good match for most consumer products, SMARC is well suited for the field of human machine interfaces (HMI), for example, due to the flexible possibilities of software configuration: low power consumption combines with considerable performance possibilities.
More efficient module power
More efficient module power with up to 116 W for type 6/7 and 58 W for type 10 can be realised very well with a compact COM Express module. Applications with comprehensive sensor technology, visualisation, artificial intelligence and sophisticated data processing are among these areas of use. Therefore, a COM Express design makes sense when the upper limit of interfaces and performance has already been reached with SMARC or QSeven and "room for more gains" is desirable. Even higher demands than in IIoT arise in server applications with their huge data densities, which require considerably more memory capacity and CPU functions.
With COM-HPC (High Performance Computing) a new standard will soon be available for this: The highly scalable, new COM-HPC standard covers those areas where COM Express has reached its limits in terms of high-speed interfaces, network connections and transmission performance. Apart from the extensive computing power and storage capacity, the 10 Gigabit Ethernet interfaces are also essential for server use. Possible areas of application include edge servers in telecommunications or medical diagnostic devices with high CPU performance and parallel data processing capacities.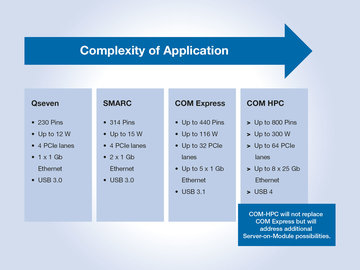 Depending on the complexity of your application, various module standards are available - from QSeven for simple to SMARC to COM Express for more complex applications, and soon also COM-HPC for high-performance server power.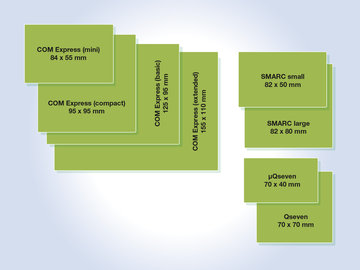 The different formats of the QSeven, SMARC and COM Express module families can be used for the custom-fit implementation of your application.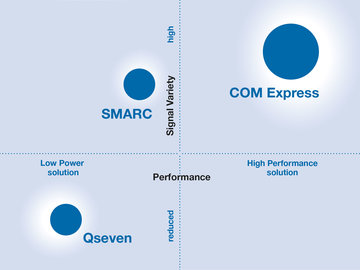 Depending on your requirements for performance and signal diversity, QSeven, SMARC and COM Express can be deployed.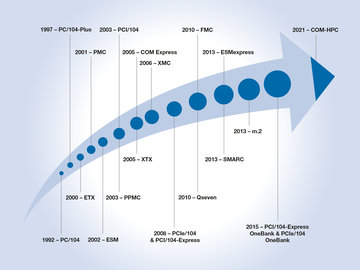 In 1992, PC/104 was introduced as the first module standard. A lot has happened since then:
Chronological overview of the introduction of all the different module standards.
Target markets of HeiSys
The requirements in the different markets are as complex and extensive as their possibilities. Some examples: In mobile applications, i.e. in railway technology, EN 50155 certification for rolling stock or wayside monitoring is required, as well as reliable (often fanless) cooling technology, flexible power supply and high maintenance safety.
IIoT asks for a broad interface and wireless standard variability as well as fast data processing and performance. For Industry 4.0 applications, versatile slot options for multi-core processing, update capability and robustness to achieve functional safety are a must.
One system platform as a basis
All these requirements can now be implemented with only one system platform as a basis. While previously, one was confronted with the difficult, hardly reversible decision which module standard and which architecture should be used - depending on performance, energy efficiency, heat generation based on it and other parameters - HeiSys, with its patent pending, multi-dimensionally scalable design for accommodating different modules, opens up completely new, flexible, inexpensive and usable options for the long term.
As in many other areas of life, the use of electronic systems in vehicles on the road, on the rail and in the air has become an integral part. In addition, progressive digitalisation is conquering more and more domains. In the transport sector, for example, this includes communication between vehicles and the infrastructure, among vehicles and the control of integrated logistics chains, as well as autonomous driving.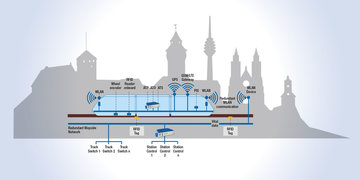 Due to ever stricter legal requirements, system complexity is increasing on the one hand, and comprehensive, simple and safe fault diagnosis is required on the other. In addition, the components must be easy to handle during upgrades and servicing, preferrably with clear wiring. All these aspects were taken into account when designing the HeiSys.
The fields of application, which can all be realised with the HeiSys due to its module-based architecture in different expansion variants, include central computer/station control, passenger information system, gateway, data logger, diagnosis and communication, among others.
Mastering the advancing digitalisation in many areas with HeiSys: The platform also supports communication technologies of the future such as 5G and mmWave.
Devices and other equipment in mobile use are continuously exposed to harsh environmental conditions such as humidity, dust or electromagnetic interference. HeiSys is precisely designed for this operation under difficult conditions. Based on the approval according to EN 50155, which includes optional Conformal Coating, the compact system is certified for mobile use as a rolling stock or for wayside monitoring. Due to the absence of moving parts such as fans, the reliability is significantly increased and the MTBF considerably extended. The system allows the use of both, an AC power supply as well as a wide-range DC power supply from 24 to 110 V and operation in the extended temperature range between -40° and +85° C, as required for many applications in transportation/rail.
Different wireless communication standards can be used simultaneously and existing wired sensors can be reused, too. This results in multi-layered connection options for the sensor technology. Different board voltages are also supported.
As a mobile control unit, the HeiSys can, for example, evaluate and process drone data and control the overall status of the application.
The concept of HeiSys facilitates the implementation of vehicle/field buses such as MVB, Profibus, CAN but also EtherCat as well as permanent contact via Ethernet, WiFi, LTE/5G with automatic network coverage adaptation for constant data reception. The platform offers the possibility of using different wireless standards simultaneously - LoRa, WiFi, LTE, GPS, Bluetooth - and thus, allows for a wide range of connection options to sensors, etc. (existing wired sensors can also be reused thanks to the modular interfaces). Other aspects for future security: the design is rated at 25 W for processor modules and therefore supports all current and future core designs; the M.2 slots can accommodate 5G modules.
HeiSys supports all common wireless and wired communication standards and their simultaneous use.
Why HeiSys for mobile use?
The most important points in brief:
The HeiSys can be used in many areas thanks to its multi-scalable architecture which can be adapted to different performance levels
With EN 50155 certification as a rolling stock or approved for wayside monitoring, fail-safe, compact, fanless and prepared for conformal coating
Supports all common forms of communication as well as wireless and wired standards, automatic, constant network coverage, also designed to support future technologies
Wide and flexible power supply for a variety of on-board voltages
Investment-safe and cost-effective: maintenance and updates can be carried out with minimal effort
The IIoT plays a central role in optimising industrial operations. People, machines and systems should communicate with each other as efficiently as possible. Edge computing plays a decisive role in implementing decentralised networks with intelligent data analysis and processing on site, with short latency times and possibly over considerable distances.
Ideal for the rapidly increasing data volumes of the IIoT: HeiSys can be used simultaneously as a data centre, gateway and output unit. The I/O connection is established flexibly via (wireless) modules.
In view of increasing complexity and large amounts of data, the deployed hardware, the gateway or the box PC, must meet demanding requirements. Apart from the compactness that is usually required, the systems should, as far as possible, waive moving components, be robust against shocks, vibrations, contamination or wear and tear, and function reliably in harsh environments. A housing that is adapted to these conditions, good thermal management and energy- and thus cost-efficient operation are also desirable. Since development will continue at a rapid pace, the systems should be available for the long term in order to secure the investment made or to expand applications as needed.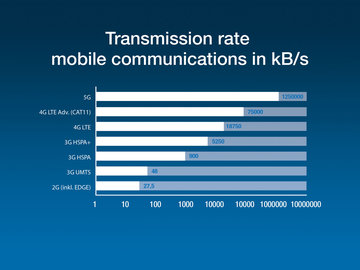 Transmission rates in mobile communications in kByte/s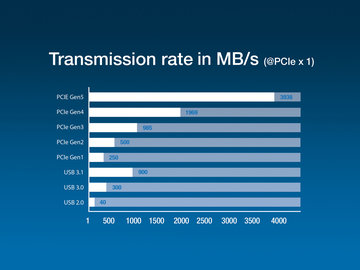 Transmission rates of computer bus systems in MByte/s
The open architecture of HeiSys with powerful, highly integrated modules allows for a wide range of possible solutions for flexible data communication and processing, smooth access to local data, and remote control and maintenance of various functions - and all of this, even in the case of adaptations, in a short time and with little effort.
New configurations can be easily implemented thanks to multidimensional scalability, different devices can be connected to the infrastructure, the connection to a cloud can be optimised or digital services such as advanced maintenance models can be integrated. A variety of connections are supported, such as wired and wireless forms of communication and the networking of different sensors.
The HeiSys can be used as a data centre, gateway and output unit and is also the ideal platform for the tasks of the future, such as the implementation of AI with learning tasks, KPI visualisation, etc.
Why HeiSys for IIoT?
The most important points in brief:
The HeiSys can be used as a data centre, gateway and output unit thanks to its interface variability.
HeiSys offers the possibility to use several wireless standards simultaneously.
Direct high-performance data processing on site reduces packet sizes and increases data quality at the same time.
Technological development is advancing rapidly: increasing data densities and information content make fast data transmission necessary. HeiSys is designed to deliver the required performance and to support e.g. 5G as well as other future transmission standards.
With its automation experts, HEITEC offers a solution portfolio ranging from digital plant and process planning to virtual commissioning and monitoring of plants and production processes with special embedded systems for faster connected manufacturing.
HeiSys as edge computer for Industry 4.0.
Modern industrial networks require decentralised structures. Depending on the data points to be analysed and the workloads, a machine tool generates several hundred GB of data. If this amount of data were to be transmitted to a data centre, this would cause high costs resulting from the required line capacities and delays due to network latency.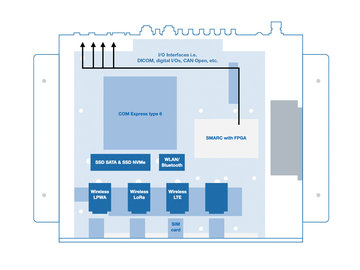 Edge computing systems collect, monitor and analyse data volumes where they are generated - in physical proximity to the machines that create the data. Costs are reduced because data is analysed locally. Only relevant data is sent to a cloud or data centre.
In return, security increases considerably because the connected devices can be protected by physical measures. Likewise, data security is higher because sensitive data does not leave the factory.
The functional place of HeiSys in the complex connected factory of today
Essential components of this architecture are gateways, that buffer data collected deterministically in real time, preprocess it asynchronously and pass it on to downstream services of the shop floor. The local data is retrieved via suitable interfaces, industrial data models and standard protocols. The correct and secure processing of signals from a wide range of data protocols is saved in the gateway by means of the interface infrastructure and software algorithms. Due to its features, the HeiSys is ideally tailored to this functionality.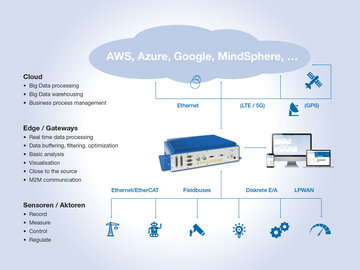 Thanks to the scalable HeiSys architecture, the user can integrate a large number of different devices, adapt them to his requirements and upgrade them as needed. For industrial use, this means that by analysing the supplied data, delivery times can be determined, and the flow of materials and distribution of resources as well as other value-added steps can be reliably planned. Processes can be controlled in a nuanced way and even small volumes can be produced economically. The number of malfunctions and failures reduces significantly, while at the same time safety, throughput, production capacity and quality increase.
Such a flexible architecture forms the basis for many future-oriented possibilities to optimize processes and open up new business fields.
Why HeiSys for Industry 4.0?
The most important points in brief:
Because of its multi-scalable architecture, HeiSys accommodates to all common standard modules and even prototypes for fast future-oriented implementations. Thanks to versatile slot options, multi-core processing is possible, current core designs can easily be exchanged by more powerful ones, so that the application always meets the latest requirements. Functional safety is also guaranteed this way.

HeiSys offers high interface variability and the possibility to use several wireless standards simultaneously. With LoRa, WiFi, GPS and Bluetooth, broad connection paths open up to the sensors as well as to data in- and output. In addition, existing wired connections can be used. 5G and mmWave are also already supported.

The robust design is geared for harsh environmental conditions and loads, so that the HeiSys can be operated in almost all demanding conditions.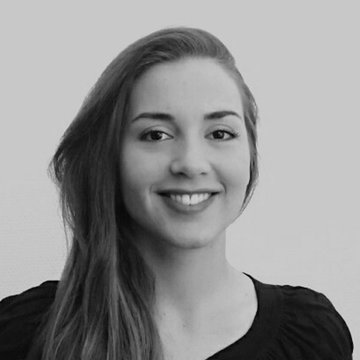 Do you have any questions or need further details? Then please feel free to contact
Romy Hüls
Phone: +49 9126 2934-142
E-Mail: Romy.Huels@heitec.de
We look forward to presenting our solution to you in more detail!