Features
What makes HeiSys unique?
With its patent pending solution, HEITEC uses the diverse possibilities of standards-based and thus manufacturer-independent plug-on module technology. The result: High scalability and maximum flexibility in terms of performance and connectivity.
Adaptable form factor, extremely resilient and robust if required, as well as fanlessly operable. Scalable processing power and free choice of wired and/or wireless networking by selecting the appropriate modules - HeiSys offers all this on a single embedded system platform.
This way, even intensive and very fast data processing can be realised in a fail-safe and simple manner. HeiSys can be used as a universal gateway, box PC or edge computer and has the necessary certifications for medical and industrial applications, mobile use and according to railway guidelines.
Last but not least: adaptation to larger or changing needs and future technologies is possible at any time by simply exchanging the modules. Sustainable and investment safe.
Multidimensionally scalable - what does that mean exactly?
By selecting modules based on standardised interfaces and thus manufacturer-independent, the computing power of the HeiSys can be scaled and an enormous width and flexibility in terms of communication and I/O interfaces can be achieved. Users can adapt the interfaces exactly to their needs.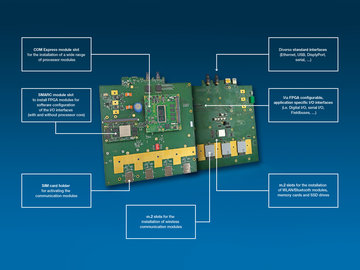 In addition to high-performance applications with up to 116 W, which can be realised with a COM Express module, low-power modules (up to 15 W) such as SMARC offer the possibility of implementing simpler applications. HeiSys is also prepared for the future use of the new COM-HPC standard for high-performance server applications.
Thanks to this flexibility, HeiSys can be deployed in various configurations in very different target markets. HeiSys also offers varied possibilities in terms of housing technology: It can be operated fanlessly , is available in 1 and 2 U versions and can be delivered conformal coated.
Based on a standard model, HeiSys offers scalable processing performance as well as a wide range of configuration options that can be tailored precisely to the needs of the respective design and target application.
Particularly with today's fast processing of immense amounts of data corresponding performance is required. Depending on the complexity of the design and the requirements for bandwidth, signal diversity, computing performance and power consumption, appropriate COM Express boards can be selected and, in combination with SMARC module-based FPGA boards, a large variability of interfaces can be mapped via the corresponding FPGA design.
A complicated, time-consuming development, the complex coordination of many different components and the resulting disadvantages are eliminated.
And the course for the future has also been set
Many new chip generations and serial signalling protocols are supported on COM Express modules. Thanks to standardised interfaces, performance upgrades and equipping the design with state-of-the-art module technology can be realised easily and quickly and guarantee - in addition to advantageous economic and sustainable aspects - multi-source security.
Downtimes are thus practically ruled out. The complete system is reusable for upgrades. Obsolescence tracking guarantees security of supply - investment-safe, economical and sustainable!
In the future, the HeiSys platform will also support the new COM HPC standard (High Performance Computing), which will improve transmission performance and network connection - as required, for example, for edge server solutions – and will further increase the number of high-speed interfaces.
HeiSys offers freedom of choice for state-of-the-art wired and/or wireless networking in communication applications. The system platform is designed for the use of WiFi/WLAN, LTE, 5G, UMTS, GSM, LPWA, Bluetooth, GPS/GLONASS, multiband wireless modules for industrial data communication and use in mobile applications such as the railway sector.
In particular, the LPWAN (Low Power Wide Area Network) network architectures are becoming increasingly popular for the realisation of IIoT structures. They enable long-range communication connections with low power consumption.
HeiSys offers full flexibility with regard to wireless transmission technologies which is achieved via M.2 interfaces, so that even future wireless modules and ever-increasing transmission rates will be supported.
Wired interfaces

USB, serial (RS-232, -422, -485) and parallel interfaces are available.

Display, memory and mass storage can be connected in a variety of ways.

Networks and fieldbuses can be connected via Fibre Optics, Ethernet / EtherCAT, CAN / CANopen / DeviceNet and Profibus / Profinet.

Wireless interfaces

HeiSys supports all current and future wireless transmission standards WLAN, LTE, 5G, UMTS, GSM, LPWA as well as GPS/GLONASS.

WLAN / WiFi and Bluetooth are supported at the local level, GSM / LTE / 5G / mmWave or LPWAN (LoRa, Sigfox etc.) as well as GPS / GLONASS / Galileo / Beidou are supported in mobile communications as well as for long-distance traffic.

m.2 interfaces ensure full wireless transmission flexibility. Due to the use of eSIM or eUICC SIM cards and corresponding SIM card information sets, any provider/tariff can be selected, a switch matrix for real SIM cards is therefore unnecessary and the best network coverage for constant data processing is always guaranteed.
HeiSys covers a wide performance bandwidth. Multidimensional scalability is ensured by flexible power supply and the support of various COM Express and SMARC module variants. This enables to use only SMARC modules for lower-performance applications.
The expansion with only one COM Express module hooks up where SMARC ends and extends the performance range into the server chip area. Accordingly, the maximum expansion with both modules - SMARC and COM Express - offers customers, among other things, multi-processor applications, almost unlimited freely selectable I/O interfaces and the possibility of covering the increasingly important area of AI.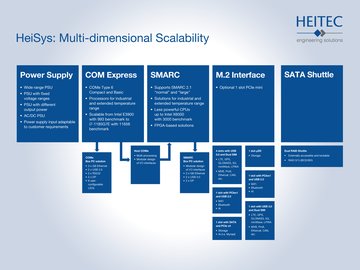 HeiSys in various configurations, depending on the requirements of the application - from low to high-performance, with the appropriate power supply, module and interface technology including SATA. Not more than necessary and yet upgradeable at any time.