When HEITEC puts your ideas into practice, we draw on proven solutions based on 40 years of knowledge and experience. This experience is your guarantee of high productivity right from the very start. We will swiftly make a team available with the necessary expertise.
You benefit in many different ways, since by choosing us as a partner you can greatly reduce the technical and commercial risks that innovations and new developments normally involve.
What you get:
The experts and the tools you need to make your project a success
Shorter project run times
Assured quality of your design
Additional financial flexibility
We help you achieve the ideal system solutions:
We can undertake complete projects or offer individual project packages to suit our customers' own business models.
System development, such as support for defining architectures and splitting up functions
Board development, such as circuit diagram development and layout
Software design from firmware through to application level
Enclosure and system technology with a broad portfolio of standard chassis components and platforms
Customised solutions including power supply, backplane, measures for EMC and ESD protection as well as
air conditioning
Module and system manufacturing
Integrating the system platform and -solution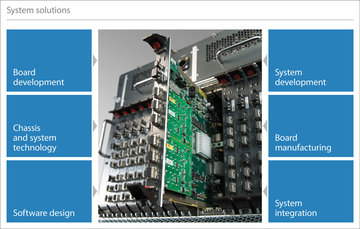 We provide support across all phases of product creation and life cycle, from the initial idea through to the finished product:
Our comprehensive portfolio helps you achieve your system solution more swiftly, cost effectively, flexibly and safely. We know what works and what doesn't, thanks to our many years of experience gathered from many projects with differing levels of added value in a range of demanding industries and for many different target applications. We have a comprehensive library of proven hardware, software and mechanical building blocks that we can draw on for every solution we create. Our comprehensive product catalog of casing technology components and platforms – based on
Rittal's former electronic packaging product portfolio – enables us to offer chassis and system solutions for the most demanding applications swiftly and reliably.