HEITEC is a highly innovative provider of automation and electronics solutions for a wide range of industries. Our experience ranges from defining system architecture and developing and implementing individual components to manufacturing and integrating entire systems – all for the entire lifecycle of systems. Coordinated processes guarantee excellent quality and provide the flexibility to adapt rapidly when new application requirements call for it.
Our experienced employees have in-depth technical knowledge in their fields and understand the industry-specific requirements. Our development and production processes are coordinated with these requirements – audited and certified.
Our solutions minimize your development and production risks and can be applied to your product at low cost and on time. We look after your products throughout their entire lifecycle.
We strive to offer you the best system solution every time, one that will give you a lasting competitive edge. Everything comes with the same quality objective – whether it's for a "simple" board or for a more complex system comprising hardware, software and casing technology.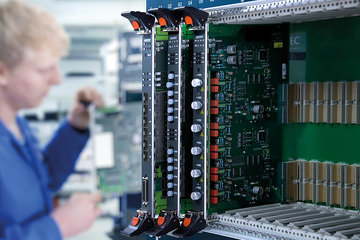 Solutions and professional services